Introducing… S'mores Granola Butter (+ New Recipe!!)
You begged & we listened - our most requested flavor is officially in the haus!! She's gooey, filled with mini marshmallows & creamy chocolate chips, and available for a *super* limited time, so snag some while you can!! And while you're at it, make these S'mores Granola Butter Air Fryer Cookies - they are soooo dang delicious 🤤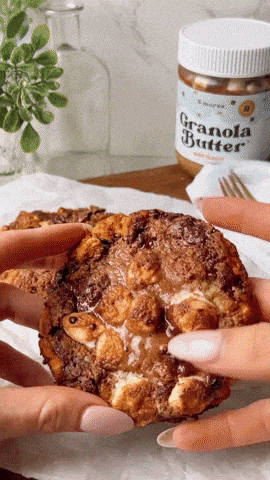 Here's what you'll need:
🍢 ¼ cup rolled oats
🍢 ¼ cup plain flour
🍢 1 tbsp sugar
🍢 1 tbsp honey
🍢 1 tbsp almond milk
🍢 1 tbsp melted butter
🍢 ¼ tsp baking powder
🍢 ¼ baking soda
🍢 chocolate chips (however many your lil heart desires!)
🍢 2 tbsp S'mores Granola Butter
Here's what you'll do:
🍢 Preheat air fryer to 350F. 
🍢 In a medium bowl, combine the flour, oats, sugar, honey, almond milk, melted butter, baking powder, and baking soda. Mix until well combined.
🍢 Fold in the chocolate chips.
🍢 Divide the batter in half, and roll into 2 cookie dough balls. Place the balls on a piece of parchment paper that will fit on the bottom of the air fryer.
🍢 Using the back of a spoon, make divots on the top of each dough ball. Then, place 1 tbsp of the S'mores Granola Butter into the divots.
🍢 Air fry for 6-8 minutes. Let cool (if you can wait) & INHALE.