Brownie Batter Granola Butter® Hand Pies
Toaster Strudel, but make it mini and PACKED with Brownie Batter Granola Butter 😈 I'm in my chocolate era, ok?!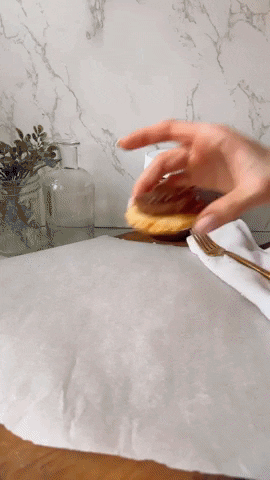 Here's what you'll need for the pies:
🤎 2 refrigerated pre-made pie crusts
🤎 1 egg + 1 tbsp water, for egg wash
🤎 Chocolate frosting of choice, for topping (or just more Brownie Batter GB!)
Here's what you'll need for the filling:
🤎 3 tbsp butter
🤎 3 tbsp Brownie Batter Granola Butter
🤎 ¼ cup dark chocolate chips
🤎 ½ cup + 1 tbsp sugar
🤎 1 tbsp brown sugar
🤎 ½ tsp salt
🤎 2 eggs (divided into 1 egg + 1 yolk)
🤎 ¼ cup all-purpose flour
🤎 ¼ cup + 1 tbsp cocoa powder
🤎 1 tsp vanilla
Here's what you'll do:
🤎 Preheat oven to 400F. Line a baking sheet with parchment paper; set aside.
🤎 To make the filling, start by adding the eggs, sugars, and vanilla to a large bowl. Beat together until light and fluffy.
🤎 Brown the butter by adding the butter to a saucepan over low heat. Once completely melted, turn the heat to medium high. Let it sputter, and once it goes silent, remove from heat. Pour it into a bowl and add the chocolate chips and Granola Butter®. Stir until the chocolate is completely melted.
🤎 When the eggs are done whipping, add the chocolate mixture and stir to combine. Add the flour, cocoa powder, and salt and whisk until just combined.
🤎 On a floured surface, slightly roll out the pie crust. Use a 3" round cutter to cut out rounds.
🤎 Spoon ~1 tbsp of the filling into the middle of half of the rounds.
🤎 Lightly brush the edges with egg wash, and then use a fork to crimp the edges together.
🤎 Transfer the hands pies to the prepared baking sheet. Brush the tops with egg wash.
🤎 Bake for 15-18 minutes, or until the edges are slightly golden.
🤎 Remove from the oven, let cool on a cooling rack.
🤎 Once cooled, spread chocolate frosting of choice on top (or GB) and devourrr.