Cinnamon Roll French Toast Roll Ups
If a fruit roll up and a cinnamon roll had a baby... 😂 These are dunkable, delicious little baddies, made even better with our limited edition Cinnamon Roll Granola Butter! We know you'll want to make them for your next at-home brunch sitch 😏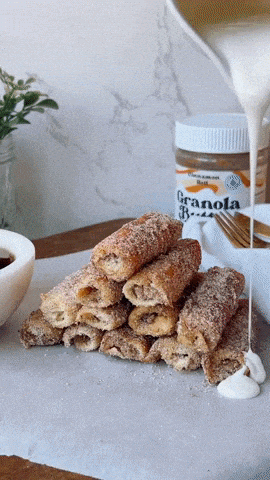 Here's what you'll need:
🔥 12 slices of bread
🔥 Butter for greasing the pan
🔥 1 egg
🔥 3 tbsp milk
🔥 1 tsp vanilla extract
🔥 ½ tsp cinnamon
🔥 ½ cup Cinnamon Roll Granola Butter
🔥 ¼ cup granulated sugar
🔥 3 tsp cinnamon
🔥 4 tbsp cream cheese, at room temperature (for the glaze)
🔥 2 ½ tbsp powdered sugar (for the glaze)
🔥 ¼ tsp vanilla extract (for the glaze)
🔥 2 tbsp milk of choice (for the glaze)
Here's what you'll do:
🔥 Start by making the cream cheese glaze. Combine all of the ingredients for the cream cheese glaze in a small bowl and beat together until smooth and well combined; set aside.
🔥 Prepare the egg mixture by beating together the egg, milk, vanilla extract, and cinnamon in a small bowl.
🔥 Then, prepare the cinnamon sugar mixture by mixing the granulated sugar and cinnamon together in a small bowl. Set aside.
🔥 Roll out the 12 slices of bread with a rolling pin until flattened.
🔥 Spread ~½ tbsp of Cinnamon Roll Granola Butter onto each slice of the bread, and then roll up into little logs.
🔥 In a nonstick pan, heat up a small amount of butter over low-medium heat. Dip the roll ups into the egg mixture, and then place them on the pan.
🔥 Keep turning the french toast roll ups every 30-45 seconds or until slightly golden brown on each side.
🔥 Remove from the pan, and immediately roll them in the prepared cinnamon sugar coating mixture.
🔥 Plate and serve with cream cheese glaze as a topping or dip. INHALE.