GB Swirled Pumpkin Cake (GF/Vegan Option)
Add this to your weekend baking plans 🔥 The perfect combo of sweet, creamy, autumn-y & cozy. Perfect for breakfast or dessert & sure to be a hit if brought to your potluck friendsgiving 😇 Ps - you could easily make this vegan & GF with a few simple ingredient swaps!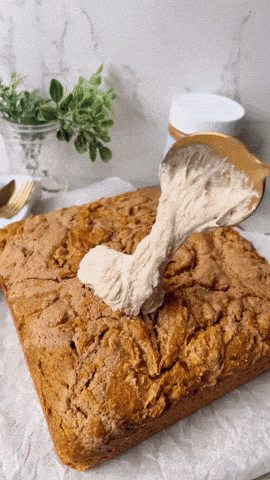 Here's what you'll need for the cake:
🎃 1 cup pumpkin puree
🎃 2 eggs, at room temp (could sub flax eggs)
🎃 ½ cup coconut sugar
🎃 ¼ cup maple syrup or honey
🎃 ½ cup greek yogurt (could sub coconut yogurt)
🎃 1 tsp vanilla extract
🎃 ¼ cup coconut oil, melted and cooled
🎃 1 ½ cups flour (could sub GF flour of choice)
🎃 1 cup oat flour
🎃 1 tbsp pumpkin pie spice
🎃 1 tsp baking soda
🎃 ¼ tsp salt
🎃 ⅓ cup Original Granola Butter (or Pumpkin Spice GB for a little pump-ception)
Here's what you'll need for the frosting:
🎃 4 oz cream cheese, at room temp (could sub vegan alternative, like Kite Hill)
🎃 ¼ cup powdered sugar
🎃 1 tsp vanilla extract
🎃 ¼ tsp cinnamon
🎃 2-3 tsp milk of choice
Here's what you'll do:
🎃 Preheat the oven to 350F. Line a 8" baking pan with parchment paper and spray with nonstick cooking spray.
🎃 In a large bowl, whisk together the pumpkin puree, eggs, coconut sugar, maple syrup, greek yogurt, vanilla extract, and coconut oil until well combined.
🎃 Then, add in the dry ingredients: flour, oat flour, pumpkin pie spice, baking soda, and salt. Mix together with a wooden spoon until fully incorporated.
🎃 Pour the batter into the prepared baking pan.
🎃 Dollop the Granola Butter on top of the batter, and use a toothpick or knife to create swirls on the surface.
🎃 Bake for 35-40 minutes or until a toothpick inserted into the middle comes out clean.
🎃 Allow to cool completely before adding the frosting.
🎃 To make the cinnamon cream cheese frosting, beat together all of the ingredients in a medium bowl until smooth.
🎃 Spread the frosting over the cooled cake, slice & inhale!