Maple Pecan Granola Butter Granola (Gluten-Free, Vegan)
It's granola-ception, baby 🥵 We present, the perfect topping for all your fall bowls - Maple Pecan Granola Butter Granola! It's super easy to make & only has ingredients that you can actually pronounce :) Make a big batch and have a yummy breakfast all week long 🙌 And if you're nut-free, simply omit the pecans!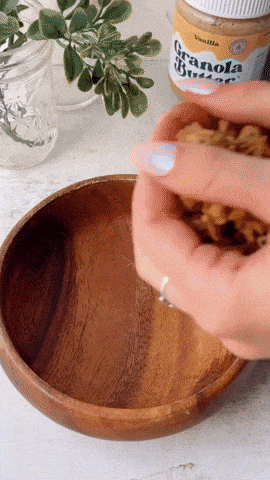 Here's what you'll need:
🤎 2 ½ cups GF rolled oats
🤎 1 cup pecan halves (optional)
🤎 ½ cup unsweetened coconut flakes
🤎 ¼ cup Vanilla Granola Butter (Pumpkin Spice would also be so good!)
🤎 ⅓ cup maple syrup
🤎 2 tbsp coconut oil, melted
🤎 ¼ tsp salt
🤎 ½ tsp vanilla extract
🤎 1 tsp maple extract
🤎 ½ cup dark chocolate chips
Here's what you'll do:
🤎 Preheat oven to 325F. Line a baking sheet with parchment paper and set aside.
🤎 Mix the oats, pecan halves, coconut flakes, Granola Butter, maple syrup, coconut oil, salt, vanilla extract & maple extract in a bowl.
🤎 Spread the mixture on the prepared baking sheet and bake for 35-40 minutes. Halfway through the time (about 15-20 minutes in), flip the granola with a spatula, and then sprinkle the chocolate chips on top.
🤎 Let the granola cool down completely and then store in an airtight container!