Mini Pain Au Chocolat (Brownie Batter GB Edition!!)
Who doesn't love a chocolate croissant?? And make anything mini & I'll literally fall to my knees 🥵 These cuties are made even better with a Brownie Batter Granola Butter chocolate filling! You need them in your life 😛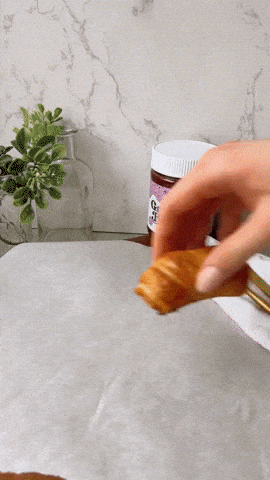 Here's what you'll need:
🤎 1 sheet of puff pastry, thawed according to instructions
🤎 ⅓ cup Brownie Batter Granola Butter
🤎 ½ cup chocolate chips or chunks
🤎 1 egg + 1 tbsp water, for egg wash
🤎 ¼ cup coarse sugar, for topping
Here's what you'll do:
🤎 Preheat oven to 400F.
🤎 Line a baking sheet with parchment paper; set aside.
🤎 Place the puff pastry on a lightly floured surface and cut into 8 rectangles.
🤎 Spread ~1 tsp Brownie Batter Granola Butter on the end of the rectangles. Then, place 1 tsp of chocolate chips or chunks on top of the GB.
🤎 Brush the opposite end of the puff pastry with the egg wash. Then, roll up each rectangle to create a "tube-like" shape.
🤎 Brush the top of each pain au chocolat with the egg wash, and then sprinkle the coarse sugar on top.
🤎 Bake for 9-11 minutes, or until golden brown. Bonus: dip the finished product in some extra GB if you're feelin spicy 😈