Pumpkin Spice Cruffins (Nut-Free)
Add these to your Thanksgiving lineup!!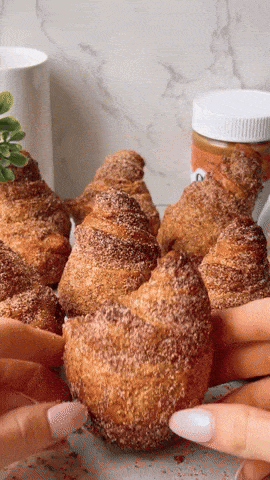 Here's what you'll need:
🧡 2 sheets puff pastry, thawed according to instructions
🧡 2-4 tbsp Pumpkin Spice Granola Butter®
🧡 ¾ cup granulated sugar
🧡 2 tbsp cinnamon
🧡 1 egg + 1 tsp milk, for egg wash
Here's what you'll do:
🧡 Preheat oven to 375F. Lightly grease 8 spots in a muffin tin; set aside.
🧡 In a small bowl, combine the granulated sugar and cinnamon.
🧡 Roll out one sheet of thawed puff pastry into an 11x15" rectangle.
🧡 Spread 1-2 tbsp of the Pumpkin Spice Granola Butter® onto the sheet of puff pastry. Sprinkle with the cinnamon sugar mixture until evenly coated.
🧡 Cut the puff pastry in half lengthwise. Then, cut each strip in half again. You should have 4 equal strips of dough.
🧡 Roll each piece like a snail, and place into the prepared muffin tin.
🧡 Repeat with the remaining puff pastry sheet.
🧡 Brush the tops of each cruffin with the egg wash. Bake for 40-50 minutes until they are a deep golden brown.
🧡 Allow to cool in the pan for 10 minutes, then remove from the pan.
🧡 Roll each cruffin in the remaining cinnamon sugar mixture until completely coated. Enjoy!