Pumpkin Swirled Cheesecake Brownie Skillet
Pumpkin & chocolate is honestly the best combo - I grew up on my mom's chocolate chip pumpkin bread and will forever be in my pump + choc era. Which brings me to this recipe that absolutely CHANGED THE GAME. I present, the Pumpkin Swirled Cheesecake Brownie Skillet 🚨🚨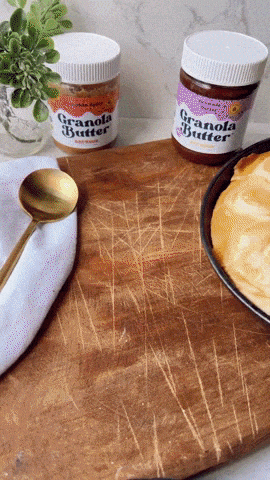 Here's what you'll need for the brownie base:
🍫 1 cup chocolate chips
🍫 ¼ cup coconut oil
🍫 ½ cup Brownie Batter Granola Butter
🍫 ¾ cup coconut sugar
🍫 2 eggs
🍫 1 cup flour
🍫 ¼ cup cocoa powder
🍫 ½ tsp baking powder
🍫 ¼ tsp salt
Here's what you'll need for the pumpkin cheesecake swirl:
🎃 8 oz cream cheese, softened
🎃 ⅓ cup sugar
🎃 1 tsp vanilla extract
🎃 1 egg
🎃 2 tbsp Pumpkin Spice Granola Butter
🎃 ¼ cup pumpkin puree
Here's what you'll do:
🤎 Preheat the oven to 350F. Lightly grease an 8-inch cast iron skillet and set aside.
🤎 In a medium bowl, melt together the chocolate chips and coconut oil in the microwave at 30-second intervals or in a saucepan over the stove. Then, whisk in the granola butter. Let cool and set aside.
🤎 In a large bowl, whisk together the flour, cocoa powder, baking powder, and salt.
🤎 To the chocolate mixture, whisk in the coconut sugar and eggs.
🤎 Then, add the dry ingredients into the wet and mix until fully combined. The batter will be thick.
🤎 Spread the batter into the prepared cast iron skillet.
🤎 To make the pumpkin cream cheese swirl, start by beating together the softened cream cheese, sugar, vanilla extract, and egg.
🤎 Divide the cream cheese mixture into two bowls. In the second bowl, whisk in the pumpkin spice granola butter and pumpkin puree.
🤎 Alternate dolloping the plain cheesecake mixture and pumpkin cheesecake mixture on top of the brownie batter in the skillet, and use a toothpick or knife to swirl and create a marbled design.
🤎 Bake for 30-35 minutes.
🤎 Enjoy warm with a scoop of ice cream if desired :) Enjoy!