Stuffed Pumpkin Spice Churro French Toast Bites (Nut-Free, Veg)
Move over, pumpkin bread. There's a new bish in town - Stuffed Pumpkin Spice Churro French Toast Bites (!!!!) 🎃 The perfect Sunday autumn breakfast or just an anytime snack for getting into the ~spooky szn~ spirit 👻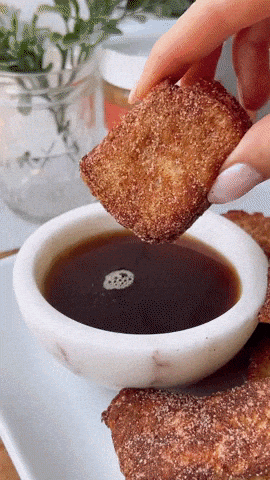 Here's what you'll need:
🧡 Challah bread, cut into bite sized pieces
🧡 3 eggs
🧡 2-3 tbsp milk of choice
🧡 1 tsp vanilla extract
🧡 1 tsp pumpkin pie spice or cinnamon
🧡 ¼ cup Pumpkin Spice Granola Butter
🧡 3 tbsp sugar + 3 tsp cinnamon
Here's what you'll do:
🧡 In a large mixing bowl, whisk together the eggs, milk, vanilla extract & pumpkin pie spice or cinnamon.
🧡 Take the bite-sized pieces of challah bread and make a slit in each cube down the middle.
🧡 Spread about 1 tsp of the Granola Butter in the pocket/in the middle of the cubed bread.
🧡 Heat a skillet over medium high heat, and spread butter or ghee on the pan to lightly grease it.
🧡 Dunk the stuffed challah bread pieces into the egg mixture & place the bread bites onto the pan.
🧡 Cook on each side until golden. Repeat until all of the bread is gone!
🧡 Combine the cinnamon & sugar in a bowl, and immediately coat the bread bites.
🧡 Serve with maple syrup & INHALE!