Valentine's Dessert Inspo: Red Velvet Heart Churros
It's the month of loveeee, but all we can think about is our brand new flavor, Red Velvet Granola Butter® !!! A spoonful of this and you'll feel like you're biting right into a decadent piece of Red Velvet cake - she's smooth, creamy, and hot af 🥵 Available for a super limited time here, so snag a jar (or 6) while you still can!!
These Red Velvet Heart Churros make the perfect Valentine's Day dessert or brunch, whether you're snackin' with your galentines or your significant other 🥰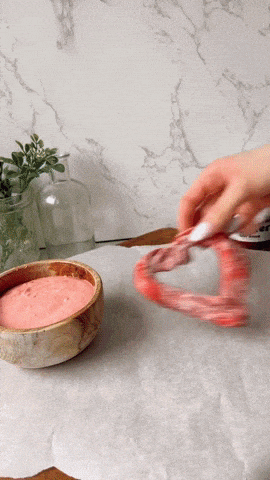 Here's what you'll need for the churros:
❤️ 1 cup all-purpose flour
❤️ 2 tsp unsweetened cocoa powder
❤️ ⅓ cup butter
❤️ 1 tbsp olive oil
❤️ 1 cup water
❤️ ¼ cup brown sugar
❤️ 2 tsp red food coloring
❤️ ½ tsp salt
❤️ 1 tsp vanilla extract
❤️ 1 egg
❤️ ¼ cup granulated sugar, for coating
Here's what you'll need for the cream cheese dip:
❤️ 8 oz cream cheese
❤️ 2 tbsp powdered sugar
❤️ 2 tbsp Red Velvet Granola Butter®
❤️ 1-2 tbsp milk of choice
Here's what you'll do:
❤️ Preheat the oven to 390F. Line a baking sheet with parchment paper; set side.
❤️ In a medium bowl, whisk together the flour and cocoa powder; set aside.
❤️ In a medium saucepan, melt together the butter and oil. Add in the water, brown sugar, food coloring, and salt, and bring to a boil for 5 minutes, mixing occasionally. Add in the flour and cocoa mixture, and stir with a wooden spoon until well combined.
❤️ Take off of the heat and allow the mixture to cool for 10 minutes.
❤️ Add in the vanilla and the egg and quickly beat until completely incorporated (it's going to look like it's not coming together, but just keep beating)!
❤️ Put the dough into a piping bag with a star tip. Squeeze the dough into heart shapes onto the prepared baking sheet.
❤️ Bake for 10 min, or until crispy to the touch. Then, reduce the heat on the oven to 350F, and bake for another 8-11 minutes.
❤️ While they are baking, beat together the ingredients for the cream cheese dip in a medium bowl.
❤️ Remove the churros from the oven and coat in the granulated sugar immediately.
❤️ Serve with the red velvet cream cheese dip. Enjoy, lovers!